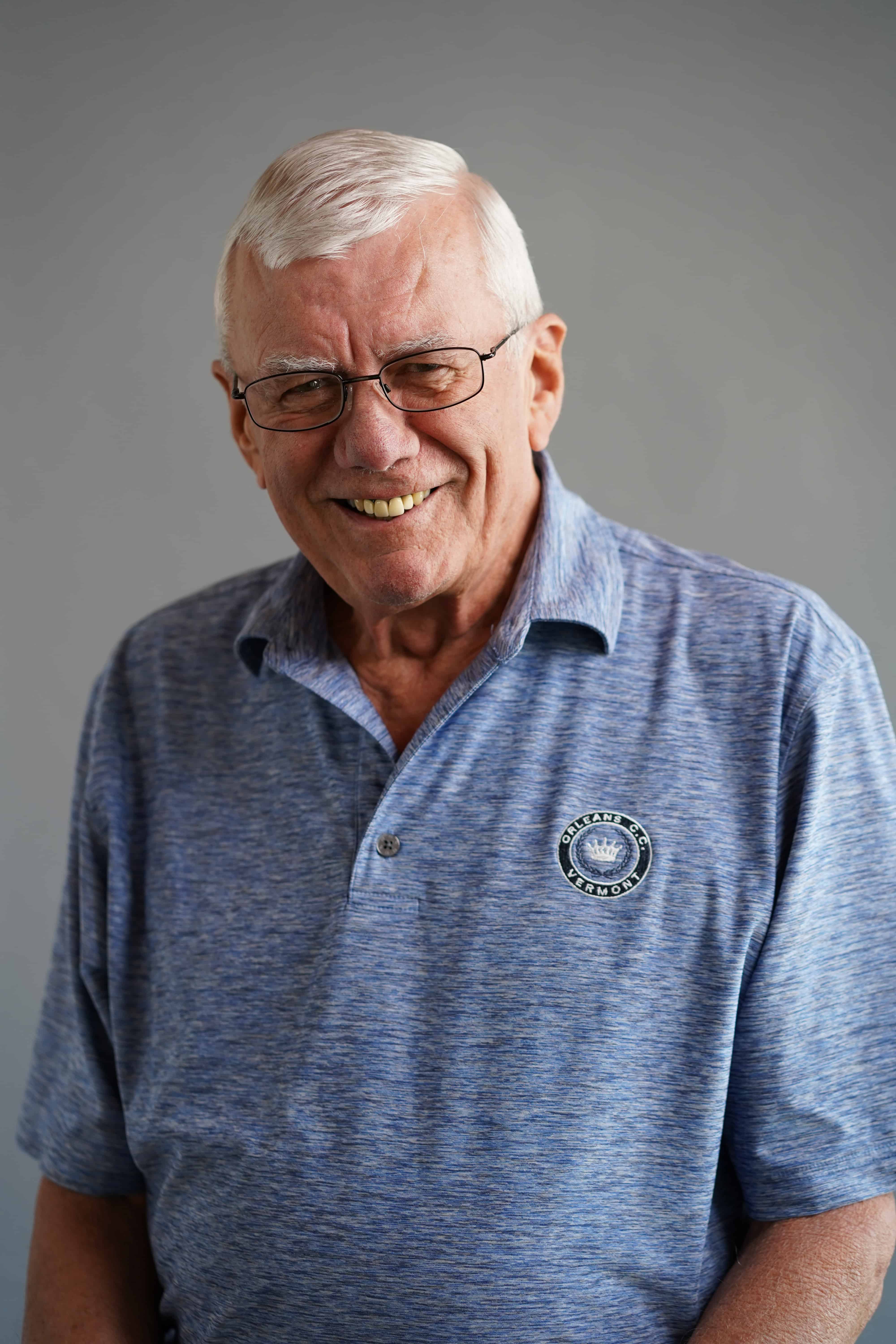 REALTOR® | Sales Associate / Auctioneer Derby Office
Derby Office
5043 U.S. 5
PO Box 331
Derby, VT 05829
Email Phone: 802-334-1200 Toll Free: 800-273-5371 Fax: 802-334-5402

About David
I am a lifelong resident of the Northeast Kingdom residing in Derby. I have been selling real estate for 40-plus years, and became a licensed auctioneer in 1971. I am a Vietnam Veteran having served there in 1968-69.I am also an avid NASCAR fan and enjoy golf. I was honored with 2004 Orleans County Realtor of the Year. Most recently, I was awarded the status of Realtor Emeritus by the National Association of Realtors in recognition of my contribution to the real estate profession in the community. As a Realtor, I also offer Buyer-Broker services. A satisfied customer is what I strive for. I'm available seven days a week.
David's Testimonials
Dave Campbell is a consummate professional and on absolute pleasure to work with. He was patient and on top of everything. He guided us through every step of the process and took any little hiccups in stride putting us at ease. He really made the process painless. From our first meeting, we knew we were in excellent hands. Dave understood what we wanted and helped make it happen. I cannot say enough good things about our experience working with him.
Dave Campbell was amazing as a Realtor. Not only was he very knowledgeable about the area and laws that apply to Vermont (we are relocating from Colorado) but he helped us all the way to closing on our new farm. He was very patient with all our questions and needs we had regarding buying the property. I would highly recommend Dave to any buyer especially if they are not living in the state of Vermont, which makes things much more difficult, as Dave makes the sale/purchase of the property [...]
Dave Campbell's expertise in the realty field was invaluable. He was able to navigate us through the first time home buying process with much needed ease. Thank you, Dave!
~ Seth & Ratoni Barrows, Glover, VT
I had done an extensive internet search on a number of properties and responded to several agents. Dave Campbell was the first to promptly respond so I chose to go with him. It turned out to be an excellent choice. Dave was fantastic! His vast knowledge of the entire NEK and Vermont in general was extremely helpful and his service as our agent was outstanding. I would highly recommend Dave to any of my friends or family without hesitation.
~ Mark Schechterle & Loucynda Conroy
Dave Campbell was knowledgeable, professional, courteous, always accessible and very motivated. Above all else, Century 21 Farm & Forest listed and sold it in-house! We would highly recommend him and Century 21 Farm & Forest.
Dave Campbell did a wonderful job helping to sell my house!! He took care of all of the paperwork & was right there for questions or concerns I might have had!! He was considerate of my time when he needed to show my house!! He was available to show the house when a prospective buyer wanted to see it & my house sold a lot sooner than I could have hoped for!!! When it came time for the closing, he took care of all of the details...I just had to show up!!! Thank you Dave for a job [...]
We asked Dave Campbell to do the impossible, find us a house with 2 bathrooms, 3 bedrooms with at least 10 acres, for a price we could afford. He accomplished it! Dave Campbell called us as soon as the house of our dreams came on the market. We signed a contract that very day! Without Dave's help, I am sure we would still be looking...and not finding what we wanted. If you are looking to buy a home, we whole-heartedly recommend giving Dave Campbell a call at Century 21 Farm & [...]
~ Jennifer & Kirk Cleveland, Barton, VT
From my first phone call to the last, I felt Dave listened to what we were looking for. He was patient and we never felt pressure. We feel he did a great job showing us the area and representing us. It was a pleasure to work with him and we highly recommend Dave. We would use Dave again.
~ C. Theodore & Maureen Steckel
Please extend our thanks to Dave Campbell for the excellent job he did helping us sell our mobile home in West Charleston, VT. We greatly appreciate the effort he put into marketing our property, especially the many nice advertisements he wrote and the courtesy with which he treated us. Doing business with Dave and with Century 21 Farm & Forest was a pleasure and we encourage anyone seeking to buy or sell in the Northeast Kingdom to consult Dave Campbell. Thank you!
~ Mike, Patty & Erin Milne
It was a pleasure to work with David Campbell throughout the process of finding a home in Vermont. We were working with him from out of state and he was very knowledgeable about the area and his communication was always clear with timely responses to our questions. David is friendly and gets to know you and your family and needs and wants. Once we found the house we were looking for, he made the entire process as easy as possible, keeping us informed of every step. Working with David was a [...]